Climate protection, sustainability and the responsible use of existing resources are the major challenges of the 21st century. One approach in the fight against climate change is being pursued by eco – Association of the Internet Industry. With its #JOINTHESOLUTION campaign, it focuses on green IT and renewable energies to achieve greater carbon reduction and energy efficiency. Benjamin Büttrich, Head of Global Web Development at DE-CIX Management GmbH, reveals what this approach looks like in the case of Car Repair 4.0.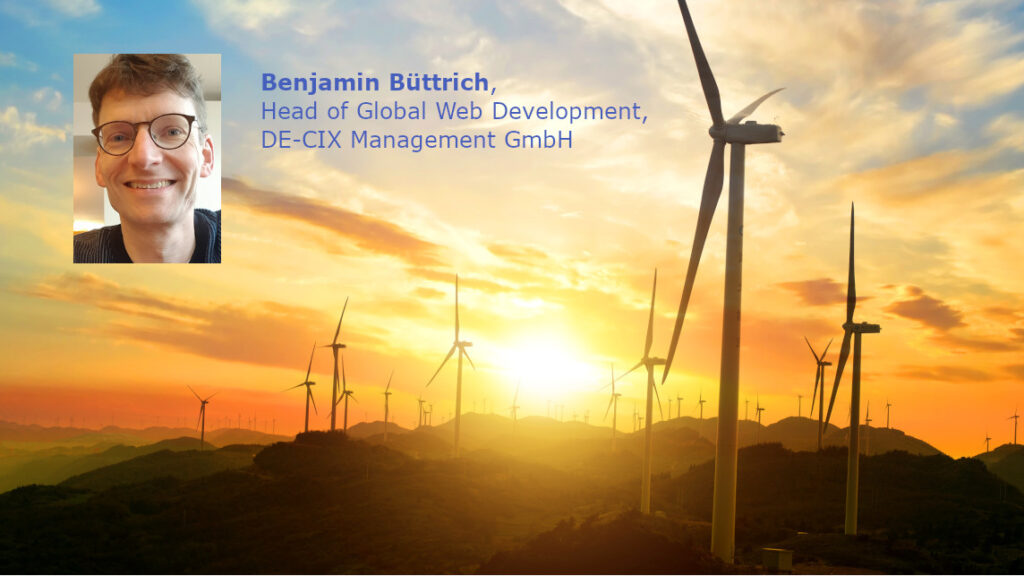 By Ralf Schädel, IT Editor and Project Manager Cloud Services and Gaia-X at eco – Association of the Internet Industry
The data centre industry has great importance and responsibility in the fight against climate change. Digitalisation processes in cities and companies, networking via digital platforms and disruptive technologies such as artificial intelligence demand increasing server performance and energy capacities to process growing data volumes. Simultaneously, digital transformation offers a solution, particularly through green concepts powered by renewable energy sources, which are essential for reducing carbon emissions and promoting sustainability. Notable examples are eco's wind-powered websites, its initiatives and backup projects.
Wind turbines are an ideal power source for data centres
"We have disrupted the cycle of increased digitalisation, higher energy demand and carbon emissions through our choice of data centre and hosting," explains Web Development expert Benjamin Büttrich from DE-CIX. Wind power plants, in particular, frequently generate more electricity than the grid can absorb, resulting in downtime. Büttrich further notes that a local power consumer like a data centre provides an ideal solution for hosting websites.
Wind turbine with integrated data centre
Nothing could have been more obvious than turning to eco member WindCORES. The wind farm operator has been installing data centres within the "belly" of wind turbines for years. The concept behind it is simple: a wind turbine offers ideal cooling possibilities in its interior to compensate for the waste heat generated by data centre hardware. The spatial proximity of the energy plant to the power consumer avoids transmission losses. The wind farm in Paderborn offers the servers of Car Repair 4.0 and the other eco websites an ideal infrastructure. The proximity to the Frankfurt Internet hub of the DE-CIX and an existing fibre optic technology guarantees fast transmission rates, additional renewable energy sources such as solar, and an almost 100 percent green energy mix.
Use existing resources
Unlike many other ecological labels, the eco Association does not engage in "greenwashing." Instead, it directly addresses carbon emissions. This sustainable approach not only aligns with the EU's energy efficiency directives, but also provides opportunities for additional measures in pursuit of a greener IT world. According to Büttrich, "Hardware that consumes less energy has been in use for quite some time. This characteristic value, known as Power Usage Effectivness (PUE), has been optimised for decades." Likewise, hardware can be reused instead of being disposed of, states the expert. Waste heat could also be used specifically for heating flats, greenhouses and other application scenarios. This creates a win-win situation, saving considerable costs and benefiting the environment.
Here's what happens next
Through API interfaces, energy information can already be accessed almost every minute. This ensures that the electricity mix is genuinely generated from renewable energies. In the next step, this transparency will be visible on websites. Visitors to a website will then be able to easily verify its sustainability at a glance and at any time. One thing is already clear: You don't have to look to other locations like Scandinavia to achieve an economically viable carbon and electricity mix for IT within Germany.
Did you like this article? Then subscribe to our newsletter and receive regular updates on similar topics and on the Car Repair 4.0 project and discuss this and similar exciting topics with us on LinkedIn.