The Mobility Competence Group of eco ­– Association of the Internet industry and Car Repair 4.0 recently hosted the webinar "Does AI bring a golden future  for the mobility industry?". Prof. Marco Barenkamp, CEO of LMIS AG, and Maximilian Stein, CEO & Co-Founder at mmmint.ai, provided insights into important topics in the car repair sector: The importance of data for the mobility industry, the role of AI in vehicle maintenance and possible perspectives for AI developers and IT service providers regarding new business models.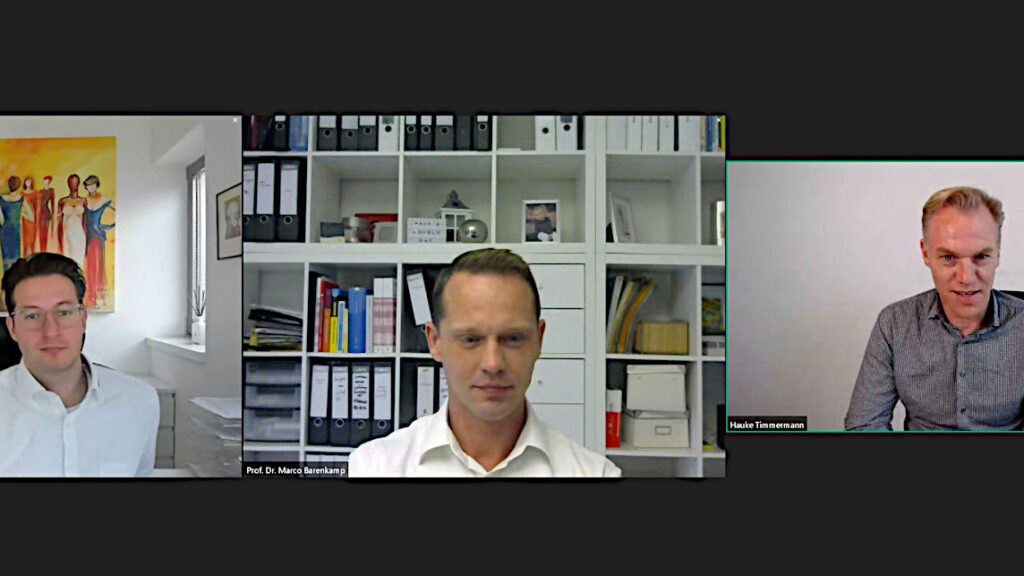 By Ralf Schädel, IT Editor and Project Manager Cloud Services and Gaia-X at eco – Association of the Internet Industry
"Multimodality and sharing are currently the buzzwords in the field of mobility services," said Hauke Timmermann, webinar moderator and Digital Business Models consultant at eco, getting straight to the point. The automotive industry has been undergoing a transformation for decades, which has been significantly shaped by topics such as the interconnection of vehicles, people and infrastructures, autonomous products and mobility services, as well as sharing concepts and the electrification of drives. New business models for customers, technologies and data that take account of both resource conservation and the shortage of skilled workers are, therefore, attracting interest. 
Data-centric applications are met with reluctance
It is the security, reliability, and availability of systems centred on a data-centric application that is receiving a great deal of attention from infrastructure projects such as Gaia-X and their use cases: Car Repair 4.0 and Catena-X. However, according to the eco survey from September, less than 10 percent of German citizens use shared mobility solutions and 60 percent of respondents refuse to share their mobility data. So there is still a need to raise awareness. The same applies to the market for digital services. Here, development is slower than expected.
A basic understanding of AI is missing
The webinar's keynote presentations and the following panel discussion reinforced the numbers. They provided insights into how AI – including Car Repair 4.0 – is influencing the development of automotive car repair shops. Maximilian Stein[LR1] [CK2] , who is not only CEO of the car repair shop Restemeier but also co-founder of the digital business model Wirkaufendeinethg[LR3] , develops AI-based SaaS solutions for his own industry. He reported on the status quo at car repair shops, car dealerships and smaller fleets with regard to AI, on obstacles and exciting connection fields for AI developers and IT service providers. "I believe the rejection of data sharing mentioned in the study is related to a lack of basic understanding and the fear of new things," Stein states.
Car Workshop 4.0 serves to educate
The decisive factor is the size of a company. Smaller companies don't have capacity and a scaling effect doesn't come into play, Stein says. A lack of basic understanding eventually inhibits the use of AI and is often misinterpreted. AI is not intended to replace jobs but, for example, to provide support for repetitive tasks. This is precisely why practice-relevant projects like Car Repair 4.0 are so crucial, says Stein. In the event of damage, for example, an automated cost estimate can be generated on the basis of customer photos, the optimum maintenance periods can be found using predictive maintenance, and, in Sales, a perfect time to sell a vehicle can be determined on the basis of metadata. Will AI now bring a golden future to the mobility industry? "Used correctly, it helps workshops and car repair shops make the necessary transformation to become mobility service providers," Stein added.
Secure knowledge and protect against claims
Commenting on Car Repair 4.0, Prof. Marco Barenkamp from consortium leader LMIS elaborates: "There are various AI providers who can offer their models and solution approaches on the Car Repair 4.0 platform. On the other hand, car repair shops have the possibility to access these offers via an ecosystem comparable to Amazon. There, in turn, trade can be conducted." In the process, expert knowledge that is available in the car repair shops is being conserved. The "First Time Fix Rate" and the cost of repairs in the car repair shops are also being optimised. "I know of a Higher Regional Court where a car repair shop had to pay a customer a five-figure amount because the motor vehicle was proven to have stayed in the repair shop too long."
What are the benefits of Car Repair 4.0?
The concerns of car repair shop owners regarding the release of mobility data are, therefore, existential. They also affect Car Repair 4.0 because it requires hardware, staff training and a monthly subscription to access the data. What are the benefits of the car repair shop in relation to the "investment" in Car Repair 4.0? The readout of an error log can be listed as an invoice item by the car repair shop, which is resource-efficient, cost-effective and understandable for the customer. "In the digital business model, uploaded data generated by the car repair shop, such as positive or negative experience reports of repair instructions or measured vehicle data, can also be monetised," says Barenkamp. There is a consensus that the best data is no good if it does not integrate the business processes or offer added value to the company.
How digital car repair shops are
The requirements for data-driven business models are clearly outlined. And yet: "I know that car repair shops have little to no preparation. In the car repair shop, a different language is spoken;  terms such as 'data lake' or 'computer vision' are foreign languages," Stein reports from his job as car repair shop owner. "When we introduced a scanner for recording vehicle registration documents, we didn't know what to expect." Neither how to properly prepare the data, nor which interfaces and technical requirements the data management system needed. The same applies to data quality: "In order for data to have the required quality necessary to train AI models, it is essential to raise awareness of the value of data," says Barenkamp. "If we intend to make data available, we first need a corresponding infrastructure. This, in turn, requires trust in its security and is precisely where Gaia-X is called upon.
Data ownership is problematic
Who owns the data over which data sovereignty is to prevail plays a major role, especially in autonomous driving. But it remains a constant issue. Both car manufacturers and ECU providers, as well as vehicle owners and insurers are making claims. The legal situation is not clear, especially when the GDPR comes into play. "A customer must first sign documents such as the privacy policy, an order confirmation, a settlement document, and occasionally power of attorney with us before repairs are made. This bureaucracy is not goal-oriented," Stein claims. Rather, it is important to develop a model that benefits both data owners and data users.
Insight and foresight instead of laws
It is also necessary to create the framework conditions for the model: "In order to counteract the distortion of competition caused by the non-provision of manufacturer data to independent car repair shops, there is less need for a legal regulation. It is more important that manufacturers realise that they can no longer stop a process and learn to assess the value of their data," says Marco Barenkamp. "Keeping the human factor in mind is crucial to me," Stein says. Someone who has been gaining knowledge for decades is certainly very proud of it. Telling them that they are now being supported by a small robot requires communication. The webinar is exactly the right platform for this.
Did you enjoy reading this article? Then subscribe to our newsletter and receive regular updates on related topics and on the Car Repair 4.0 project, and discuss this and similar exciting topics with us on LinkedIn.