A brief introduction to the consortium: In our interview series, the consortium partners of Car Repair 4.0 answer questions. This time: LMIS AG.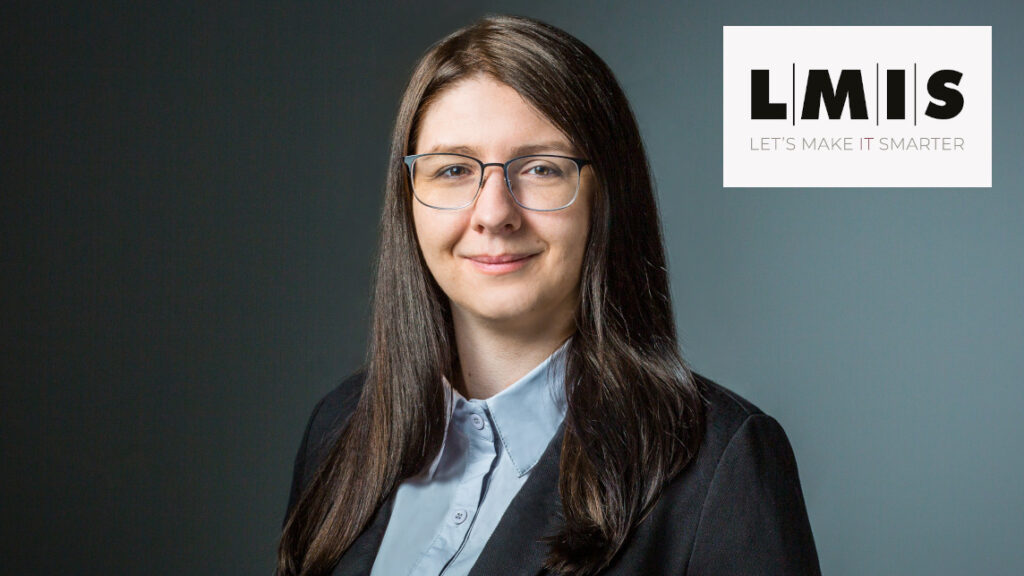 Profile
Interviewee's profile: Raphaela Butz, M.Sc. Computer Science and Media, eXplainable Artificial Intelligence Engineer, Technical Solution Architect
Company LMIS AG, Neumarkt 1, 49074 Osnabrück, Germany

Role of the company in the project: Consortium leader

Website: https://www.lmis.de/en/
By Ralf Schädel, IT Editor and Project Manager Cloud Services and Gaia-X at eco – Association of the Internet Industry
Car Repair 4.0: Ms Butz, what is the significance of Car Repair 4.0 (AW 4.0) for the German automotive service landscape?
Raphaela Butz: We are intending to give a lot more meaning to the word 'independent' when it comes to independent car repair shops. We are going to do this through the flexible and autonomous selection of a wide range of providers and their analysis processes, combined in a single measurement system.
Car Repair 4.0: In addition to maintenance and servicing, which other business areas in the automotive industry could be affected by AI-supported vehicle diagnostics?
Butz: AI-supported vehicle diagnosis is more efficient. In addition to successfully counteracting the shortage of skilled workers, more efficient maintenance and service, and less waste because components that are still intact are less often replaced on the off chance that they could be the cause of an error. This in turn has a positive impact on our environment.
Car Repair 4.0: Why is artificial intelligence (AI) particularly suitable for offering added value to SMEs?
Butz: AI in SMEs is a little dream of mine. Currently, however, AI hardly offers any added value to SMEs because the data is often too scarce or too spotty to be able to train good models with it. Furthermore, for the majority of AI applications, individual solutions are still needed, which often makes AI quite pricy. Thankfully, however, there is more than just one independent car repair shop. As Car Repair 4.0, we want to bring all relevant stakeholders together to solve the problem.
Car Repair 4.0: What benefits do you hope Car Repair 4.0 will bring to your company?
Butz: A major part of the project is the sovereign data exchange, which is a big issue for us. Far too much data is lying idle on dusty servers. In my view, we at LMIS AG can use this untapped potential to optimise processes or to further develop into analysis tools. Meanwhile, the release of data is often difficult to track and control, which is why sovereign data exchange is so important.
Car Repair 4.0: How do your customers benefit from a more accurate diagnostic procedure?
Raphaela Butz: More accurate diagnostic procedures mean more targeted and faster vehicle maintenance. The car repair shop can therefore work more efficiently and the customer gets their car back faster. They do not then return as quickly – and are satisfied – since the problem has actually been fixed.
Car Repair 4.0: How would you describe your contribution to the project?
Raphaela Butz: I run the project on the technical level, which primarily means that I do a lot of listening and manage or provide the glue that brings all the great ideas in the project together and turns them into Car Repair 4.0.
Car Repair 4.0: Are AI applications already playing a role in your company?
Raphaela Butz: We are an IT company that specialises to a large extent in AI and offers a lot in this respect. As a result, AI plays an essential role in our everyday work.
Car Repair 4.0: Can you think of a question you wish you had asked that wasn't asked here?
Raphaela Butz: What makes Gaia-X so important?
Thank you very much for your support!
Did you enjoy reading this article? Then subscribe to our newsletter and receive regular updates on related topics and on the Car Repair 4.0 project, and discuss this and similar exciting topics with us on LinkedIn.