The 31st Car Repair Shop & IAM Industry Forum was all about the Independent After Market. In Dortmund's Westphalen Halle, well-known players and innovative solution providers took the opportunity to exchange ideas with the owners of independent car repair shops. The Car Repair 4.0 project also took part. The Gaia-X use case attracted many interested visitors to its stand.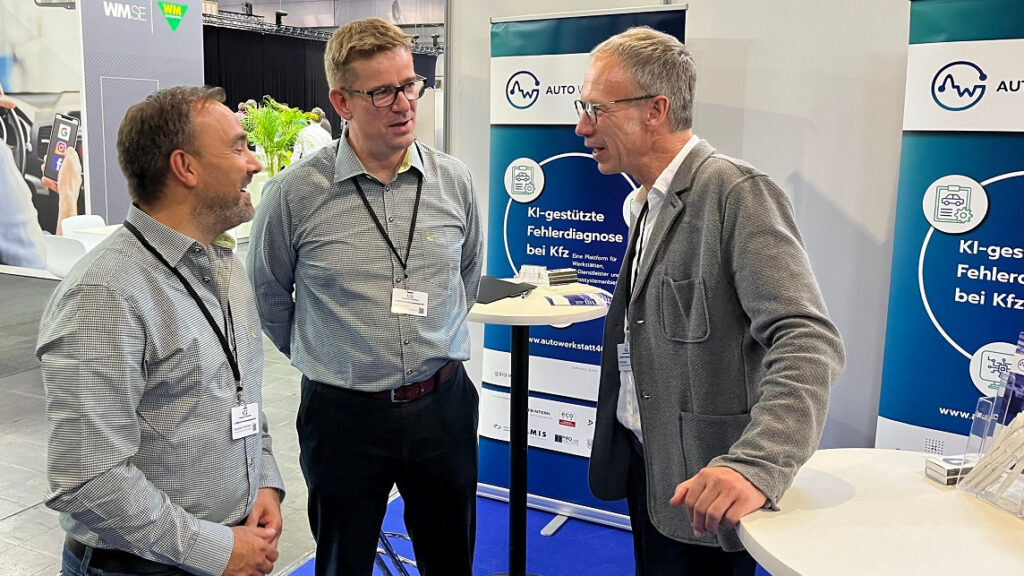 By Ralf Schädel, IT Editor and Project Manager Cloud Services and Gaia-X at eco – Association of the Internet Industry
After a two-year absence due to the pandemic, numerous participants took the opportunity to inform themselves about current trends in the independent car repair shop scene and to expand their network in workshops, at exhibition stands and in keynote speeches over two days in Hall 3 of the Westphalen Halle in Dortmund, Germany.
IAM workshop offer provides a change
Marius Kaufhold, a moderator for the fair organiser and the service agency specialised in car repair shops and car dealerships A.T.Z., noted the great uptakeof the workshops on Saturday with pleasure. In a varied programme, TÜV Rheinland, among other, presented the "Forensic Method in Vehicle Assessment", Hella Gutman Solutions a "Measurement Technology for Measurements up to 1,000 Volts" and Mahle GmbH "Artificial Intelligence in Vehicle Calibration".
Talks encourage exchange
And the Sunday trade fair programme also offered plenty of variety:  In 15-minute keynote speeches, speakers  informed about their projects and encouraged visitors to come and get more detailed information at their exhibition stands. While the companies Clarios and Varta reported on the "Battery Market in Transition," those interested were able to learn about a "Loyalty Programme for Car Repair Shops" at proPoints, about "Optimising the Operating Result" at Continental, and about "Car Repair 4.0 and the Gaia-X Data Ecosystem" from Dr Jan Schoenke from the consortium leader LMIS AG.
Car Repair 4.0 not only collects vehicle data
In addition to the keynote presentation at the stand, visitors to the Gaia-X use case project Car Repair 4.0 learned that the goal is to establish a platform for the secure and trustworthy exchange of industry-specific data and AI models. Likewise, that the funding project deals with targeted, AI-supported and simplified automotive fault diagnosis using oscilloscopes. The industry experts from the independent workshops were no less enthusiastic about an on-site evaluation of the market situation in vehicle diagnostics.
Lots of fuel and solutions
Initial tendencies of the not yet completed survey of the Independent After Market already reveal exciting results: The shortage of skilled workers is a key issue that the industry needs to address. Artificial intelligence (AI) is seen as having great potential. The same applies to the qualification of mechatronics engineers and their impact on fault diagnosis as well as the improvement of fault diagnoses through AI. Last but not least, "misdiagnosis" is a major problem for car repair shops from a business perspective.
Did you like this article? Then subscribe to our newsletter and receive regular updates on similar topics and the Car Repair 4.0 project and discuss this and similar exciting topics with us in our LinkedIn Group.