Anyone who wants to process business data securely and confidently cannot overlook Gaia-X. For car repair shop operators, in particular, it is crucial to know how data can be collected and exchanged in a trustworthy manner. Topics that also concern AI developers and IT service providers. Raphaela Butz, M.Sc. Computer Science and Media, eXplainable Artificial Intelligence Engineer Technical & Solution Architect at LMIS, explains which infrastructure is planned with which Federation Services (GXFS) for Car Repair 4.0 and the advantages a hub has over edge devices.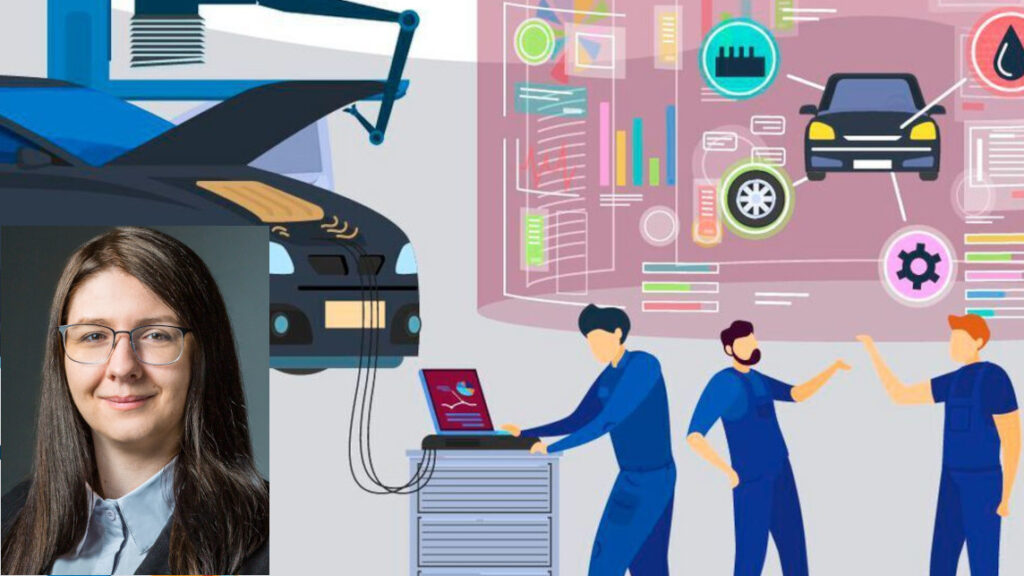 By Ralf Schädel, IT Editor and Project Manager Cloud Services and Gaia-X at eco – Association of the Internet Industry
Car Repair 4.0: Ms Butz, tell us about the Gaia-X infrastructure that is planned for Car Repair 4.0.
Raphaela Butz: Instead of several intelligent edge devices, we are planning a car repair shop hub. This can be provided either online in the cloud or as a hardware solution for car repair shops. With the hub, car repair shops are directly connected to the Gaia-X car repair shop ecosystem and get access to the data they have recorded themselves. They then have the option of sharing their data in this federation.
Car Repair 4.0: What other advantages does a car repair shop hub have?
Butz: Existing diagnostic modules can be implemented in the hub, allowing car repair shops to use more computationally intensive AI models without having to run them on every edge device. This lowers the acquisition costs. A hub has the advantage of offering a high degree of flexibility. Car repair shops can freely select measurement hardware and sovereignly decide how they want to act.
Car Repair 4.0: What functions must the Car Repair 4.0 infrastructure fulfil, and how does Gaia-X implement this?
Butz: The onboarding of the car repair shops is done centrally. Service providers, such as T-Systems for the Catena-X automotive network, are involved in this process. For each participating company, a so-called self-description is prepared and notarised, i.e. the accuracy of the self-description is certified. This gives the company verifiable digital proof, the so-called "verifiable credential". With it, the car repair shop can participate in the Car Repair 4.0 Federation.
Everything else is made available in a decentralised manner. Companies can, therefore, continue to use their own infrastructure. Only one data connector, e.g. the "Eclipse Dataspace Connector" (EDC), is needed to exchange data between the participants of the federation. The company ID is stored in this connector. Service offers with the associated usage agreements (policies) are also stored in the catalogue, and the link to the respective data product is established. In the same way, offers from other participants can be found and booked via the EDC and thus the data connection can be established.
Car Repair 4.0: Are any adjustments or extensions required?
Butz: We currently use the EDC and expand it according to the data stores we want to connect. In addition, the requirements for providing and finding suitable data products for Car Repair 4.0 must be formulated and stored as data templates in the systems.
Car Repair 4.0: What benefits do the GXFS bring to car repair shops, AI developers and, for example, system integrators?
Butz: System integrators or diagnostic system manufacturers can get AI models more easily by offering their data via the Car Repair 4.0 Federation, where they can then be found by AI developers. AI developers have the advantage of getting data more easily through automated action. Car repair shops are freer in their choice of diagnostic models.
Car Repair 4.0: What challenges are there to consider when implementing the GXFS?
Butz: As Gaia-X is constantly changing, we have to strive to be up-to-date on which standards are currently set as mandatory and how these can be implemented – but also which functionalities are recommended. Therefore, the project checks at regular intervals how far the definitions and GXFS tools have progressed and whether changes can or even must be made.
Car Repair 4.0: Which GXFS are to be used specifically in Car Repair 4.0?
Butz: By expanding GXFS services, we can always consider integrating new services. We are currently planning to use the "Organisation Credential Manager", the "Personal Credential Manager" and the "Self-Description Tooling".
Car Repair 4.0: What services are already available, and what measures have already been taken?
Butz: By the end of the year, we will be able to integrate suitable car repair shops into Car Repair 4.0 in a scalable way. We have defined criteria to evaluate car repair shops. The car repair shops have understood how to participate in Car Repair 4.0 and what they can expect from the project. With the data collected in the small rollout, we created a basis for addressing AI companies and provided visibility in the AI development community.
Car Repair 4.0: So all stakeholders are involved in Car Repair 4.0.
Butz: Right. With Car Repair 4.0, we want to bring together IT service providers who specialise in AI models with data providers such as car repair shops or diagnostic system manufacturers. Our goal: To ensure faster diagnosis together and offer car repair shops a high degree of flexibility.
Car Repair 4.0: Can Car Repair 4.0 learn something from comparable use cases?
Butz: Agri-Gaia represents a comparable case. The project to build an agri-science ecosystem for the agri-food industry collects data that is processed in another vendor's AI module and delivered back to the agricultural machinery manufacturer. The difference to Car Repair 4.0: It's not about diagnosing errors in the car, it's about recognising plants.
Car Repair 4.0: Will there be turnkey access to Gaia-X ecosystems in a few years?
Butz: Yes, because the infrastructure and service landscape will then have been developed to such an extent that there will be no unnecessary hurdles to cooperation due to the uniform identity procedures and service descriptions, and meta-platforms will have formed that make individual federations visible and further simplify trade.
Thank you very much for the interview!

Did you like this article? Then subscribe to our newsletter and receive regular updates on related topics and the Service-Meister project and discuss this and similar exciting topics with us in our LinkedIn group.