Car Repair 4.0 started its project assignment in January 2022. How the first year has gone, which bottlenecks have been identified and what goals have been set for 2023, reveals Jan Hendrik Schoenke, Head of Research and Development at LMIS, the consortium leader.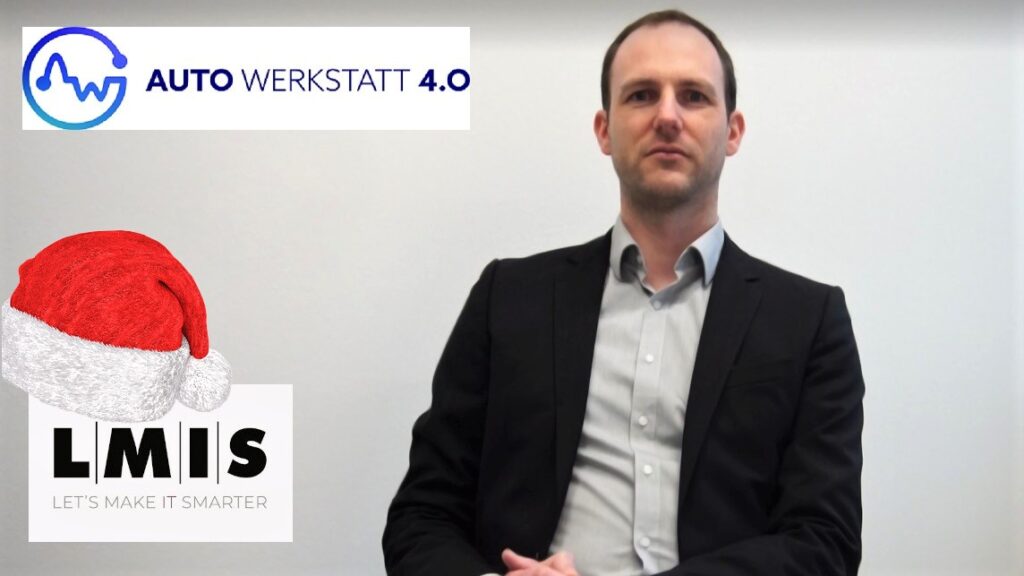 By Ralf Schädel, IT Editor and Project Manager Cloud Services and Gaia-X at eco – Association of the Internet Industry
Car Repair 4.0: Jan, Car Repair 4.0 was launched with great enthusiasm at the beginning of the year. How has the project since been received by the automotive industry, AI developers and project partners?
Dr. Jan H. Schoenke: It was received differently in the different areas. We have learned this year how important precise terminology is. For example, that we don't just carry out diagnostic work, but provide a validated diagnosis or the validation of diagnoses. This definition is necessary to understand what Car Repair 4.0 can contribute to individual industries.
Car Repair 4.0: Could you give a concrete example of this?
Jan: Car repair shops and parts manufacturers have a concrete idea of what a validated diagnosis means, considering how diagnostic work has been dealt with in the industry so far. There are many diagnoses based on someone's "best guess". This is based on current part exchange rates, which are based on non-validated diagnoses. If a particular part is replaced frequently, it may subsequently be suggested more often – without this being justified by a validated diagnosis. This state of affairs underlines that Car Repair 4.0 can make an important contribution in terms of sustainability. This is exactly the feedback we get from parts manufacturers and wholesalers who can improve their logistics. Car repair shops are also able to make better decisions for their customers, and fleet operators can significantly reduce their maintenance costs.
Car Repair 4.0: Is there any evidence to support this?
Jan: Using the example of the lambda sensor, we have learned that over 90 percent of the parts taken back by the manufacturers are flawless.
Car Repair 4.0: What do the solutions on the market look like so far?
Jan: We look at diagnostic testers of various designs and manufacturers. Very sophisticated systems have specialised in the OBD error codes in order to be able to make increasingly differentiated diagnoses. We do not ignore this, but we also know that on-board diagnostics (OBD) are limited in terms of their ability to validate diagnoses. The reason is that every OBD error code has been created with the sensor technology in the vehicle. If the sensor system is faulty, so is the diagnosis. This is precisely where our advantage lies.
Car Repair 4.0: In what way?
Jan: Today, we are already in a position to carry out precisely these measurements and trainings that clearly diagnose a component as defective or defect-free. We want to gain more and more insights by further expanding the measurements in the course of the project and automating them.
Car Repair 4.0: From the future back to the present: What is your assessment so far?
Jan: Very positive. Although I am certainly a little biased in my perception, I was really impressed by the individual contributions of the partners at the second milestone meeting in November. We set ourselves the goal of technical integration in the first year. The aim was to enable us to record measurements directly and make them available in a cloud. Sharing the data allows AI developers to access the data. We have reached this milestone and thus laid the technical foundation for many other activities. We can now focus even more on the needs of the car repair shops.
Car Repair 4.0: How do you classify the achievement of the second milestone? How much Gaia-X is already possible today in the car repair shops, with the other target groups and stakeholders?
Jan: We have seen with the demonstration of a live measurement and the subsequent data transfer or further processing at the milestone meeting that we can implement a sovereign data exchange according to all rules of Gaia-X and that we can represent and guarantee data sovereignty and access rights.
Car Repair 4.0: What does this mean for the further course of the project?
Jan: For dissemination in the industry, much more is required than handling the data. We are technologically capable of building and using the necessary infrastructures. However, there is still a lot of work to be done to bring this level to a wider audience, so that car repair shops can meet the challenges of "verifiable credentials", i.e. a digital identity.
Car Repair 4.0: Where do you still see a need for action?
Jan: The experience from Catena-X has shown us that onboarding is crucial to introduce partners to the ecosystem and empower them to participate on both a technical and formal level. Specifically, it is about identifying the right partners: For example, who needs a data connector and hosting, and who does not. Part of our future work will be to ask the right questions to find out what the car repair shops need, what they can do and what they want to do.
Car Repair 4.0: What are the next milestones to realise the big goal of AI-supported vehicle diagnostics and a secure data infrastructure?
Jan: We should first look at the next milestone because, as I said, it strongly affects the car repair shops. In the so-called "small roll-out", the diagnostic systems are brought into the car repair shops on the basis of the technically created infrastructure that we laid in the first milestone. A training concept, which the Georg Agricola University of Applied Sciences (THGA) has developed in a leading role, is to be used to go broad. As a first step, we want to use it to advance data collection. In this context, the GDPR will also be discussed: This means that we obtain declarations of consent when necessary or when personal data is collected. Our focus in the next milestone is to test these application examples in the market and, in the long term, to draw from them our onboarding concept for the Car Repair 4.0 ecosystem.
Car Repair 4.0: What are your wishes for the project in 2023? 
Jan: My expectations and wishes are based on the great results of this year. We have proven that together in this community that we can achieve great things. I hope that we continue to grow even closer together. On the one hand, internally with all partners and employees, on the other hand, with the many associated partners who have placed their trust in all of us. We need to integrate them even more into the project because they are partners from whom we can learn a lot. Their willingness to collaborate on issues is clear to see. They want to learn more in the fields of "diagnosis" and "Gaia-X". I would also like us to show a little more equanimity in achieving our goals, so that we not only ensure a sovereign exchange of data, but also an even more sovereign cooperation for reaching the next milestones.