René Glitza, Chief Project Officer (CPO) at consortium partner Auto Intern, along with Sales Director Mario-Andreas Stahl from the manufacturer of PC-based hardware for electronic vehicle diagnostics, showcased the latest outcomes of their project at this year's Hannover Messe. Together with the Gaia-X Hub Germany team at the Industry 4.0 stand, the prototypes of the recently developed omniscope were presented. During the interview, they elaborated on what was presented to the interested trade audience and highlighted the specific questions that piqued the interest of the trade fair visitors.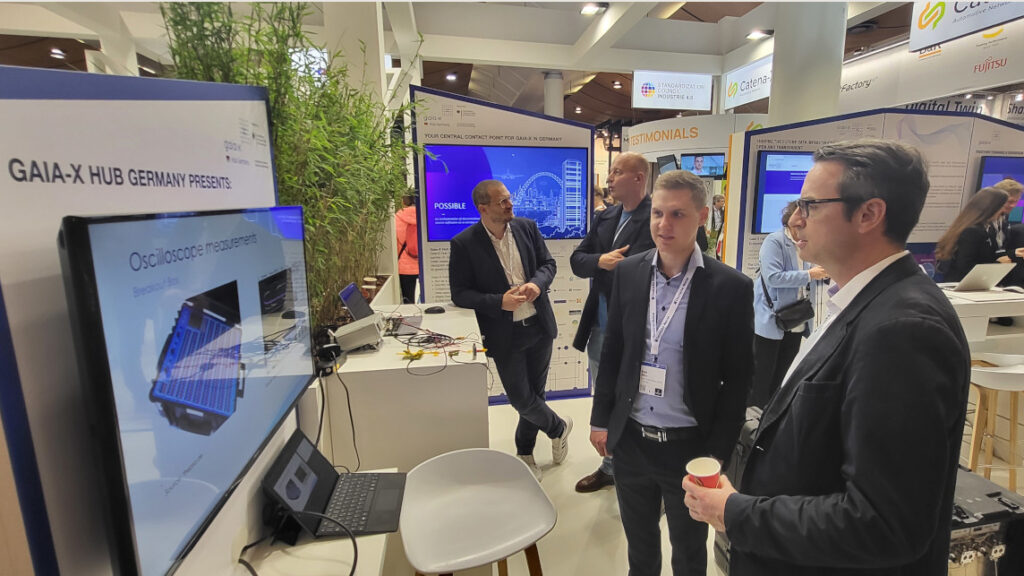 By Ralf Schädel, IT Editor and Project Manager Cloud Services and Gaia-X at eco – Association of the Internet Industry
Car Repair 4.0: René, what did you present to visitors at the Hannover Messe today?
René Glitza: We showed the first prototypes of the omniscope – the hardware that we are bringing into the car repair with Car Repair 4.0 – with two variants: Firstly, with a BNC connection, which enables highly accurate direct measurement, and secondly, with an E-field sensor. In our setup, we simulated a signal from the engine compartment with a function generator and then digitalised it using circuit boards. The entire setup is interconnected via USB, with a hub linking it to a Linux computer. Subsequently, the software will display the data in real time. Also new in our demonstration was that we synchronised several circuit boards with each other!
Car Repair 4.0: Why is the synchronisation of a signal useful?
René: Synchronisation enables the realisation of a variable end-channel oscilloscope via USB connection. This allows signals from several omniscopes to be compared and evaluated. The boards are usually time-shifted. This is especially problematic when the signals are viewed over time – as with the camshaft and crankshaft.
Car Repair 4.0: Mario, what relevance does your innovation have for car repair shops?
Mario-Andreas Stahl: The daily routine of a car repair shop still involves replacing components on spec. Specialists in the field of vehicle diagnostics are few and far between. The lack of expertise and the fact that commercially available oscilloscopes are highly expensive and sensitive were the demands of the market that we want to meet. We have now succeeded in building an oscilloscope with production costs in the just under two-digit Euro range. Produced in mass, it costs less than ten Euro. To be fair, it should be acknowledged that a commercially available oscilloscope possesses capabilities that are not achievable or necessary for our application. Our omniscope offers several advantages, including its compact size, robustness and seamless "plug and play" solution. With Car Repair 4.0, we overcome the lack of specialised knowledge using algorithms. Car repair shops receive very specific instructions to help them diagnose errors.
Car Repair 4.0: Does that only apply to combustion engines or also to e-vehicles?
René: Our development is well transferable to e-mobility. We have oscilloscopes that are able to measure voltages. The e-field sensor also measures voltages without moving. Thanks to our current technological foundation, we can measure the current and non-invasively magnetic field. Statements about the e-motor are therefore possible.
Car Repair 4.0: What was the reaction of the trade fair visitors to the demonstration? What questions were asked?
Mario: Some were interested in artificial intelligence and its possible capabilities. They were very grateful about every use case, presented to them. Some individuals asked deeper questions regarding data flow, data spaces and data security.
René: Since some were already familiar with the Gaia-X concept, we didn't have to start from scratch. They expressed their desire to learn how the topic of data sovereignty is addressed and resolved, through our use case. There was significant enthusiasm in the marketplace and its independence from major industry solutions. Many were interested in applying the concept of Gaia-X, while relatively fewer participants represented the automotive sector. Among the curious attendees were mechanical engineers, technicians, data managers and interface experts.
Thank you very much for the interview!
Did you like this article? Then subscribe to our newsletter and receive regular updates on similar topics and on the Car Repair 4.0 project and discuss this and similar exciting topics with us on LinkedIn.