Introducing the Consortium: In our interview series, the consortium partners of Car Repair 4.0 answer questions. This interview: DEKRA Digital GmbH.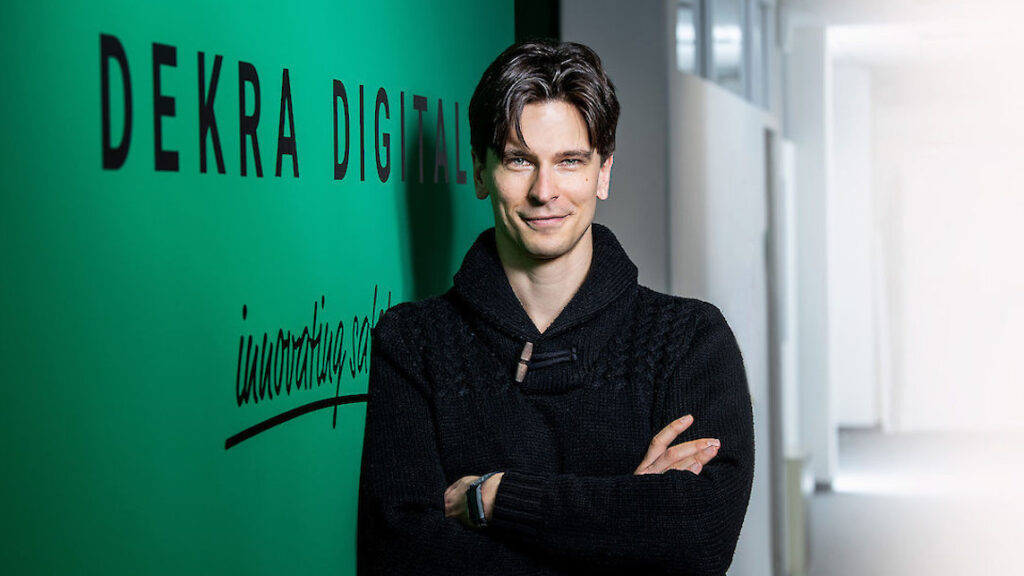 Profile
About the author: Dr. Tarek R. Besold, Head of Strategic AI
Enterprise: DEKRA Digital GmbH, Handwerkstr. 15, 70565 Stuttgart
Role in the project: AI quality testing, AI and data platform development support
Website: www.dekra.digital
By Ralf Schädel, IT Editor and Project Manager Cloud Services and Gaia-X at eco – Association of the Internet Industry
Car Repair 4.0: Dr. Besold, what is the significance of Car Repair 4.0 for the German automotive service landscape?
Dr. Tarek R. Besold: Car Repair 4.0 is an important part of the technical evolution of the automotive service landscape. To date, the industry has not exactly been among the pioneers of digitalisation, but projects such as Car Repair 4.0 have great potential to change this and make key technologies such as artificial intelligence (AI) and data-driven analytics a core element of future automotive services.
Car Repair 4.0:In addition to maintenance and repair, what other business areas in the automotive sector could be impacted by AI-supported vehicle diagnostics?
Besold: AI-assisted vehicle diagnostics are expected to have an impact along the entire value chain. Thus, as part of the diagnosis, data is collected which can influence design decisions of new models (Where do problems regularly occur in vehicles? Which components prove particularly effective?) and can also provide important information for decommissioning vehicles (Which parts of the vehicle lend themselves to reuse?). In general, AI-powered methods allow us to collect data and thus understand the diagnostic object better and more holistically along the entire lifecycle.
Car Repair 4.0: Why is artificial intelligence (AI) particularly suitable for offering added value to SMEs?
Besold: AI, as the next step in the evolution of automation, offers SMEs the opportunity to achieve more with existing resources and to deliver disproportionate effects. AI enables increases in process efficiency through faster workflows, but also in process quality and thus in the perceived value on the part of customers. At the same time, the introduction of AI offers the opportunity to turn innovation potential into actual market advantages – SMEs can embrace technological and cultural developments more quickly due to their size and flat hierarchies and thus have a competitive advantage over large corporations, especially in phases of change.
Car Repair 4.0: What benefits do you hope Car Repair 4.0 will bring to your company?
Besold: Car Repair 4.0 gives us the opportunity to actively participate in the development of the next generation of tools. On the one hand, we see this as a responsibility to the entire industry, which can then benefit from the technologies developed. On the other hand, Car Repair 4.0 offers us the opportunity to improve our own technological capabilities and keep pace with new developments in fields relevant to us.
Car Repair 4.0: How do your customers benefit from a more accurate diagnostic process?
Besold: Thanks to technologies such as those being developed in the Car Repair 4.0 project, customers can expect faster diagnostic processes – and thus time savings – and even more consistent process quality in the near future. Overall, this leads to an improved "overall car repair shop experience" for each and every customer.
Car Repair 4.0: How would you describe your contribution to the project?
Besold: As DEKRA DIGITAL, we make an important contribution to ensuring the quality of the technical solutions developed in our role as an independent third party. We support our consortium partners in ensuring that the AI models created by Car Repair 4.0 meet all necessary quality standards for use in automotive service practice, and that both technicians and customers can rely on the tools and results.
Thank you for your support!
Did you like this article? Then subscribe to our Newsletter and receive regular updates on similar topics and on the car repair project, and discuss this and similar exciting topics with us in our LinkedIn group.