Introducing the Consortium: In our interview series, the consortium partners of Car Repair 4.0 answer questions. This interview: Georg Agricola University of Technology.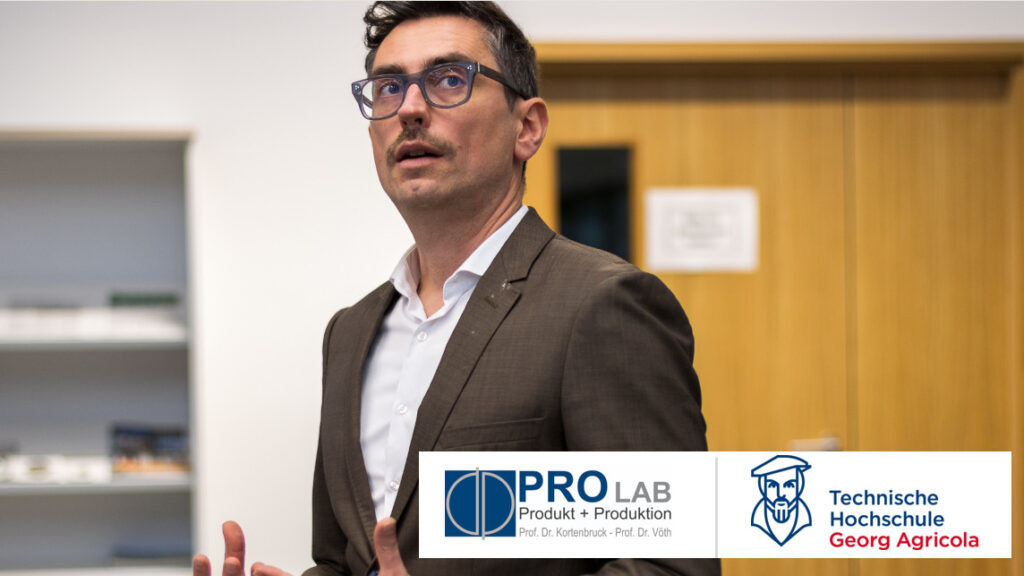 Profile
About the author: Lukas Jakubczyk has been a research associate at PROLAB Produkt+Produktion, an institute of the Georg Agricola University of Applied Sciences, since its foundation, focusing on data-driven productivity management systems.
The company: DMT Gesellschaft für Lehre und Bildung mbH, Georg Agricola University of Applied Sciences, Herner Straße 45, 44787 Bochum, Germany
Role of the company in the project: Organisational project management
Website: www.thga.de
By Ralf Schädel, IT Editor and Project Manager Cloud Services and Gaia-X at eco – Association of the Internet Industry
Car Repair 4.0: Mr Jakubczyk, what is the significance of Car Repair 4.0 for the German automotive service landscape?
Lukas Jakubczyk: First of all, Car Repair 4.0 has triggered a change in thinking in car repair shops. This has many facets and challenges, which, in essence, correspond to the zeitgeist of critically addressing the use of resources in terms of sustainability. Car Repair 4.0 focuses on differentiated error diagnoses. This can significantly reduce the unnecessary replacement of parts and wasted time for car repair staff and customers.
Car Repair 4.0: In addition to maintenance and servicing, which other business areas in the automotive sector could be affected by AI-supported vehicle diagnostics?
Jakubczyk: I see this as similar to logistics, where so-called value-added services initially enriched classic transport, handling and warehousing processes and can now completely serve global supply chains. Maintenance and servicing are only the beginning. I can see possibilities in the areas of insurance or C2C businesses. A big win would be to get the OEMs on board, which would open up a multitude of other use cases.
Car Repair 4.0: Why is artificial intelligence (AI) particularly suitable for offering added value to SMEs?
Jakubczyk: I favour the term "machine learning algorithms" to AI. These algorithms were initially available to a small group of people who could do great things with them. This required above-average programming skills coupled with statistical knowledge and the right hardware. Today, anyone with zero knowledge can do just as great in collaboration with the "GPT-3+" language model. We have an innovative SME sector in Germany that needs to recognise and use these transformation opportunities.
Car Repair 4.0: What benefits do you hope Car Repair 4.0 will bring to your company?
Jakubczyk: By raising awareness of the project, we hope to increase enrolment at our University of Applied Sciences.
Car Repair 4.0: How do customers benefit from a more accurate diagnostic procedure?
Jakubczyk: As a customer, I benefit from the diagnostic process by having to invest less time and money in repairing my vehicle.
Car Repair 4.0: How would you describe your contribution to the project?
Jakubczyk: I'm someone who recites a certain mantra over and over again so that everyone involved does not forget it.
Car Repair 4.0: Do AI applications already play a role in your work?
Jakubczyk: In addition to Car Repair 4.0, we are researching digital human twins at PROLAB Product+Production. These combine the disciplines of visual computing with reinforcement learning algorithms – what many would lump together as "AI".
Car Repair 4.0: What question would you have liked to have been asked that was not asked here?
Jakubczyk: Is Car Repair 4.0 only for combustion engines?
Vielen Dank für Ihre Unterstützung!
Did you like this article? Then subscribe to our newsletter and receive regular updates on related topics and the Service-Meister project and discuss this and similar exciting topics with us in our LinkedIn group.