Practice and theory combined – that was the experience of around 20 independent car repair shops who made their way to Rastede near Oldenburg. At the VIEROL Academy, they had the chance to learn more about artificial intelligence (AI) in maintenance and repair as well as about the latest research results of the Car Repair 4.0 project in a free crash course. There was great interest in a live oscilloscope measurement, where speakers and car repair shop owners exchanged experiences and tips in error diagnosis.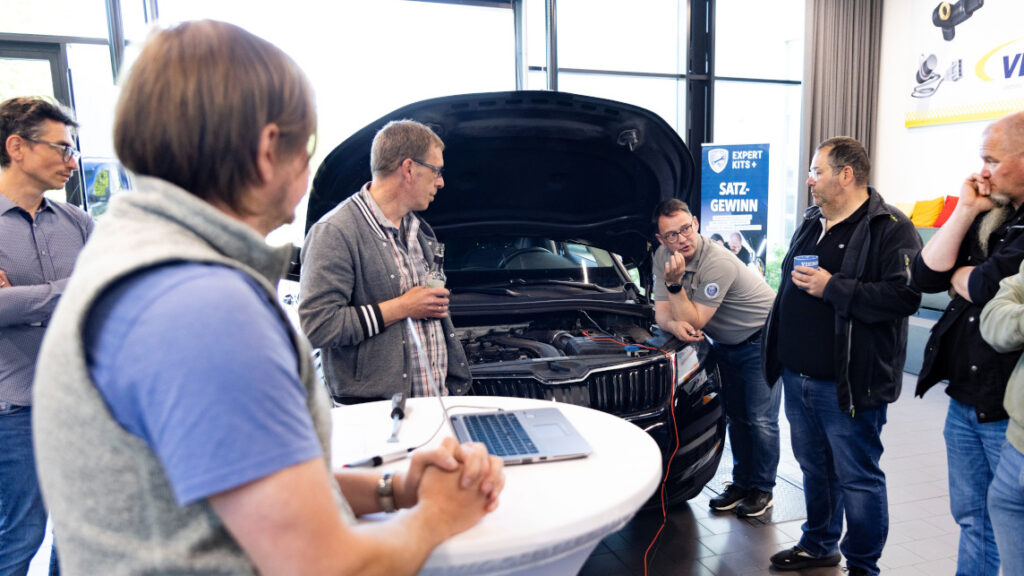 Photos: Oliver Perkuhn, VIEROL AG

By Ralf Schädel, IT Editor and Project Manager Cloud Services and Gaia-X at eco – Association of the Internet Industry
An exciting day awaited all event participants as the Car Repair 4.0 team, in collaboration with its associated partner VIEROL, organised an information event for independent car repair shops from Oldenburg and the surrounding area. The event provided fascinating insights into the world of artificial intelligence and its application in vehicle diagnostics, fostering intensive discussions and networking opportunities.
Short round of introductions to get started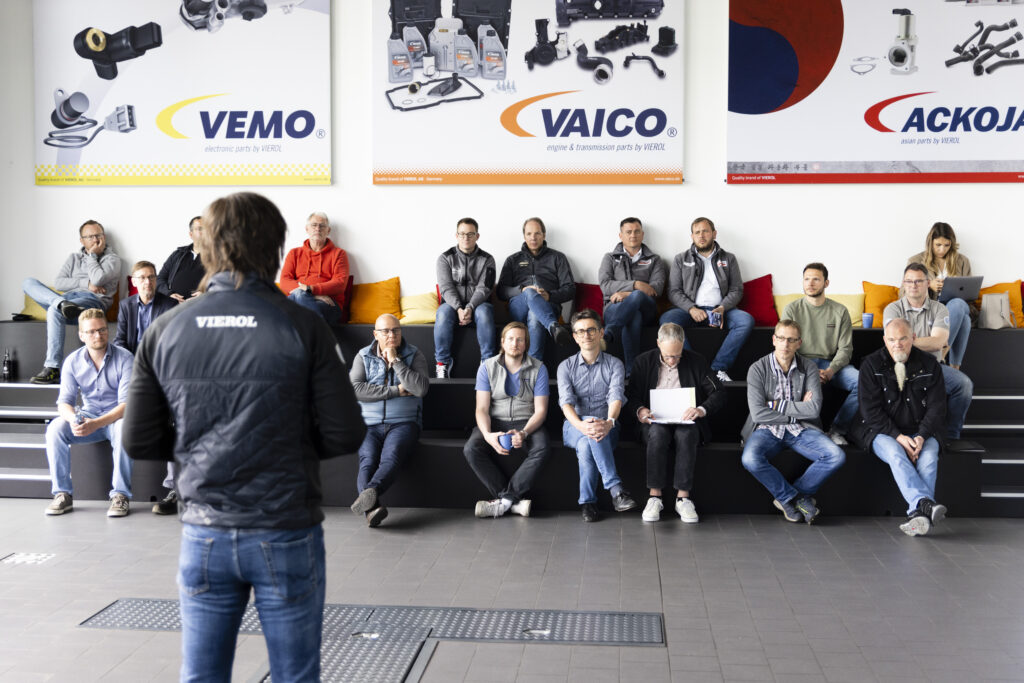 Ibrahim Chahrour, Head of Marketing & Product Management at VIEROL, welcomed all visitors to the training rooms, emphasising the significance of exchanging experiences with car repair shops for his company and the funding project. This exchange is crucial to better understand their needs and make progress in improving error diagnosis.

After a short introduction of his company, the host handed over the floor to Lukas Jakubczyk from the Technical University Georg Agricola (THGA). He explained the challenges of independent car repair shops to the audience and briefly introduced the preliminary project and the future Gaia-X connection at Car Repair 4.0. In the end, he presented the concept of the project as well as its goals and benefits. In doing so, he elaborated on the discrepancies between AI and machine learning and illustrated the ontology of lambda sensor errors.
Lack of skilled workers as a motivational boost
Jens Voigt, Operations Manager at Auto Frömel from Osnabrück, had become aware of Car Repair 4.0 through a lecture by Professor Marco Barenkamp and was curious about the solution the project offers for the shortage of skilled workers: "We lack good employees for correct and meaningful diagnoses."
Stephan Bökelmann, also an employee of the THGA, clarifyied how the theory of onboard and offboard diagnostics can be realised in practice. He showed the participants voltage curves displayed on an oscillogram and asked the car repair shop experts for their error interpretation. In general, there was lively talk, discussion and exchange of tips.
Visual instruction: Oscilloscope measurement
Live and up close, the event participants had the opportunity to look over Stephan Bökelmann's shoulder during an oscilloscope measurement. Michael Saathoff from the MM Südbrookmerland car repair shop in the East Frisia region welcomes this experience: "Work in car repair shops is increasing. The number of cars is growing, the number of car repair shops will continue to decline over the next ten years." To cope with these conditions, a better understanding of error diagnosis is very helpful, he stated.
Everyone is invited to join.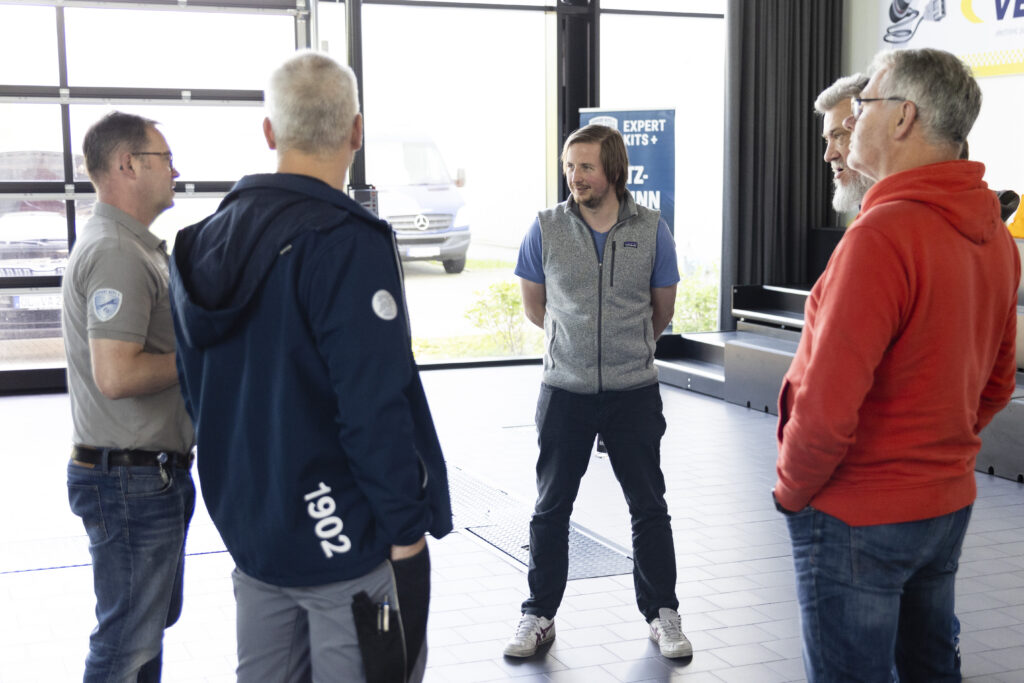 An assessment was provided by participant Michael Ketterer, owner of the Frederikspark car repair shop. He had made the journey from Norderstedt near Hamburg to make his car repair shop team fit for the future. "After digitalising our car repair shop with checkpoints and camera systems, the next steps are information exchange and possible cooperation with Car Repair 4.0."

Car repair shops have shown significant interest in the upcoming rollout scheduled for autumn. In this initiative, Car Repair 4.0 will distribute measuring systems and offer on-site training in five regions across Germany. The level of enthusiasm in the car repair industry has been exceptionally high.
Organisers and visitors were satisfied
Host Ibrahim Chahrour considers the "Car Repair 4.0 Day2 a success: "We are happy to have car repair shops in the house to be able to exchange ideas with them and our technicians. According to the marketing expert, the success of the info event was evident in the active participation in talks and discussions. "VIEROL Academy is interested in AI-assisted diagnostics to support troubleshooting in the car repair shop as it would help us gain a better understanding of parts replacement.," said Chahrour. He said that today's collective effort, where everyone worked together, was symbolic of the shared journey towards the future.haube gesteckt haben, sei symbolisch für den gemeinsamen Weg in die Zukunft.
Did you like this article? Then subscribe to our newsletter and receive regular updates on similar topics and on the Car Repair 4.0 project and discuss this and similar exciting topics with us on LinkedIn.